If you live in or follow happenings in the U.S., you know that folks are fighting about about budgets, debt ceilings, and fiscal cliffs. For most of us, these are obscure concepts and terms.

But drug and device companies and, by extension, medical translation providers, are directly impacted by these debates: The three big budget/spending items in the U.S. budget are social security, military, and healthcare.

According to Blue Point Trading, U.S. healthcare costs are currently about 18% of GDP as compared to about 12% in other developed countries. The U.S. also has some of the worst healthcare outcomes when compared to these same developed economies.

In a separate post, Blue Point Trading points out that drug costs are high - and going higher:



Annual global spending growth on medicines will increase from $30Bn in 2012 up to $70Bn in 2016, driven by volume growth in emerging markets and higher spending in developed markets according to a report from the Institute for Healthcare Informatics [PDF].

Most of these costs are coming from people over the age of 70 – take a look at this chart: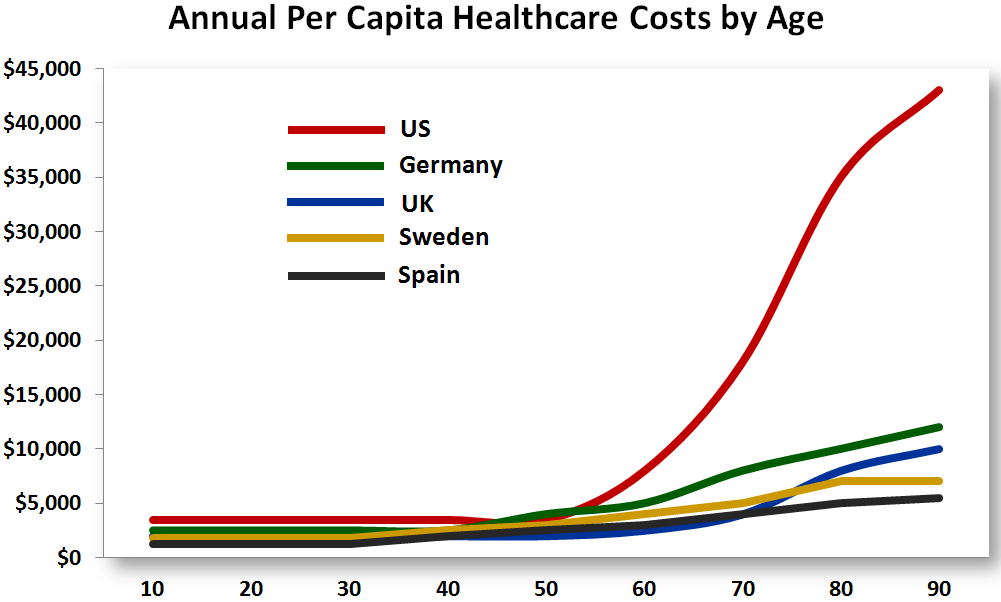 It's hard to imagine healthcare spending going anywhere but up. This should guarantee the livelihood of medical translation professionals for years to come.

Or could it be that healthcare spending will overwhelm governments and that they will have to slash costs - and that this will eliminate the need for medical translations?

[Hat tip to The Big Picture]

For more stuff you didn't know, take a look at these articles:
ForeignExchange Translations is the leader in medical translation. Contact us to find out why the largest drug and device companies rely on us!
0 Comments: