'Tis the season for conducting customer satisfaction surveys. There are many good reasons for the growing popularity of these surveys, what with increased competition for translation buyers, attempts to counter-act shrinking translation budgets, and efforts to build stronger client relationships.

In fact, many translation companies equate high customer satisfaction with guaranteed future revenue from their client base. Unfortunately, that view is often wrong.

Why? Because it doesn't reflect how translation purchase decisions are made in the real world. Sure, on an individual project or two or 20, an individual medical device or pharmaceutical customer will go with the translator that has provided good service before.

But medical device and pharmaceutical companies are complex beasts. Over a longer period of time, there are many, many groups and people who will influence the decision of which translation supplier to work with.

MarketingProfs put it this way:
"In the B2C arena, the user is usually the decision maker. I'm thirsty; I buy and drink a Coke. If I like the experience, I choose to buy another. In B2C, customer satisfaction is a very effective tool for repeat business.

But it's not that easy in the B2B world, where there may be hundreds of users, dozens of influencers, and a single decision maker (with whom many suppliers have little or no relationship)."
And the same article cites Bloomberg Businessweek:
"60% of defecting customers describe themselves as 'very satisfied' just before they leave."
Yikes!
This doesn't mean that customer satisfaction is
unimportant
, mind you. (At ForeignExchange, it always amazes me how much business we gain because of competitors providing consistently bad service.) But it means that to maximize overall customer satisfaction and minimize the likelihood of a customer leaving you for a competitor, you need to look beyond an annual survey.
MarketingProfs included a graphic representation of how Oracle ensures customer service through different channels and audiences: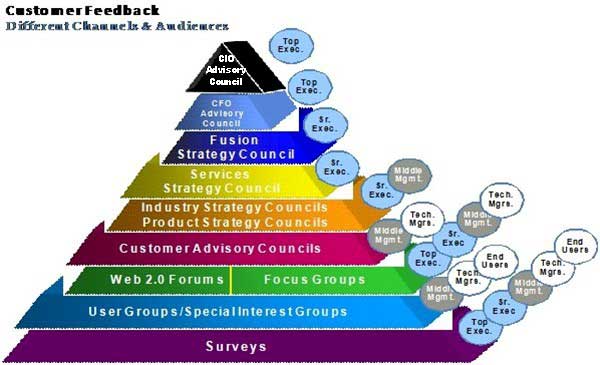 The moral? Go ahead and send out your customer satisfaction surveys. But don't just focus on users (i.e., your project contact). Instead, involve people from up and down your clients' organizations in dialogue, idea exchanges, and different forums.
ForeignExchange Translations provides specialized medical translation services to pharmaceutical and medical device companies. Contact us to learn more.
1 Comment:
Victor Alonso Lion said...

December 16, 2010 at 7:52 AM

 

Totally agree with the article.
Necessary to measure satisfaction of the actual contacts: yes.
Indeed it is very necessary to know your costumers and, specially with big corporations, the change can come from many different places almost impossible to anticipate and control.

Once again, I believe in the crucial importance of "being found" and then show and prove credibility and competency.