The Brave New Words blog recently ran a post on the Multilingual Eye Chart developed by John Yunker. It raised a good question: In non-Latin-alphabet-employing countries, what do people use for eye charts when they go to the optometrist?

Interested, I searched for eye chart from around the world. Here is what I found:

English

Japanese
Yiddish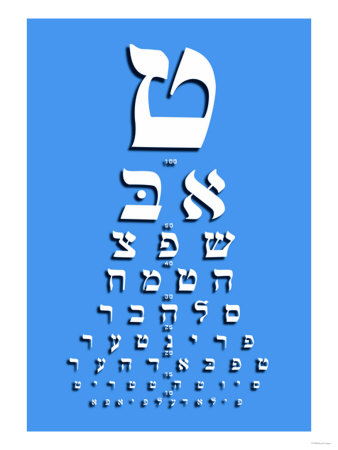 Korean
Arabic
Want to have more fun and build your own eye chart? With the SUNY/University at Buffalo's
Interactive Visual Acuity Chart
, you can.
For more answers to perplexing questions, take a look at:
Like this post? Be sure to subscribe to Medical Translation Insight via email or RSS!
2 Comments:
July 9, 2010 at 1:31 AM

 

Dear blogger,
Please allow me to inform you that the characters on chart 3 are Hebrew letters, used also in Yiddish and other Jewish languages developed through centuries

amaxson said...

July 12, 2010 at 6:02 PM

 

@ Anonymous:
You are absolutely correct. Yiddish uses the Hebrew alphabet for written language. More information on Yiddish can be found here:
http://www.omniglot.com/writing/yiddish.htm

It seems the eye chart for Yiddish is the same as the eye chart used for Hebrew, from my internet research. Does anyone know if there are different eye charts for Yiddish and Hebrew?